What are the advantages of custom cardboard counter displays?
Holidaypac
2022-11-01
700
The application of cardboard counter display is very wide, it is divided into counter display stand and counter display box, the material is mainly corrugated paper, which has the effect of environmental protection. The advantages of customized cardboard counter display are mainly reflected in: the the cardboard counter display box and display stand are flat cargo platforms, which can carry heavy objects and have a stable structure. It can be used in food paper stands, toy display stands, gift paper stands, cosmetic paper stands, etc., and can be used in all walks of life. Cardboard counter displays have other advantages: removable and foldable, easy to move, and adaptable to different occasions.
1. Materials for custom cardboard counter display

450g coated gray card in line with ROSH and RECAH standards, 5 layers of reinforced core high-strength corrugated cardboard; 10mm thick support plate can be used to strengthen the load-bearing part. It can also be used in combination with other materials such as stainless steel cardboard counter display boxes, plastics, etc. Specific can be adjusted according to customer needs.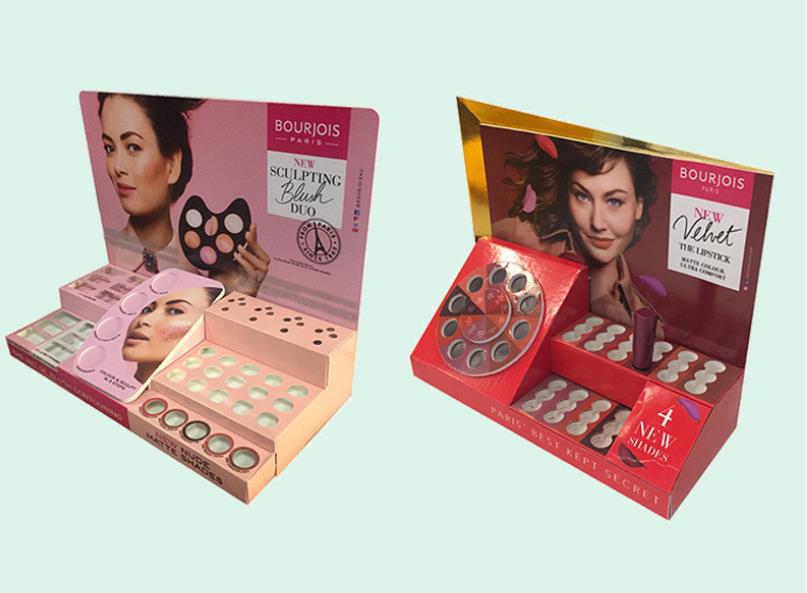 2. Customize the size of the cardboard counter display

Customers can customize according to drawings, adjust the design according to customer drawings or requirements, tailor-made cardboard counter display boxes, or customize logos and patterns according to our existing sizes, which can save a lot of costs, such as mold opening fees.
3. Making of cardboard counter display

There are professional designers to carry out structural and graphic design, analyze the structure of the display stand, and combine the selling points of the customer's products to fully display every craft and material.
As a professional cardboard display manufacturer, we have more than ten years of rich experience and can produce multi-function displays, selling point displays, luxury displays, and wonderful selling point cardboard displays. We have our own factory and purchase raw materials in large quantities every quarter, and ensure that the quality and environmental protection of raw materials meet the latest standards, effectively reducing material costs. Our workers are systematically trained to produce. If you have custom cardboard display stand or display box needs, welcome to contact us.