New material PP extrusion display stand helps your sales doubled
Holidaypac
2022-12-12
600
In modern commodity marketing activities, paper display stands have changed the traditional way of commodity display. The unique form of the display rack enables consumers to generate a series of psychological activities such as attention, interest, desire, and memory before purchasing the product.
In the process of cardboard display design, in addition to using decorative design elements such as color, text, and patterns to reflect the function of POP advertising, it must also meet the functions of displaying products, conveying information, and selling products.
And our newly developed new material, PP Extrusion Display Stand, can not only increase your sales but also make it easier for you to use and last longer. Its material is as light as paper and as strong as metal, and all the structures are ready-made and molded from ordinary display stands on the market. It's also waterproof, just like metal, and can be used indoors or out, making it handy for every product promotion you have.
Our new material PP Extrusion Display Stand has the following features:

(1) Small batch customization: 20 sets, 50 sets, 100 sets, 200 sets, 500 sets of customization (less than 100 sets will be delivered within 5 days)

(2) Assembly time: 5 minutes, a girl can complete the assembly without tools

(3) Structure: stable and firm, with smooth and clear edges, delicate and burr-free

(4) Load bearing: 10kg per layer (can be supported for a long time) (drink bottles, wine bottles, etc.)

(5) Service life: more than 2 years

(6) Replaceable materials: replaceable materials at the printing place, KT board, wood board, herringbone board, etc. (the thickness should not exceed 5cm)

(7) Artwork replacement: Artwork can be replaced when the booth is reused

(8) Printing: high-precision printing, strong visual impact CMYK printing, PMS printing

(9) Advantages of new materials: metal iron material has a stable structure, strong bearing capacity, waterproof, durable.

(10) Cardboard is light in weight, easy to move, and low in shipping costs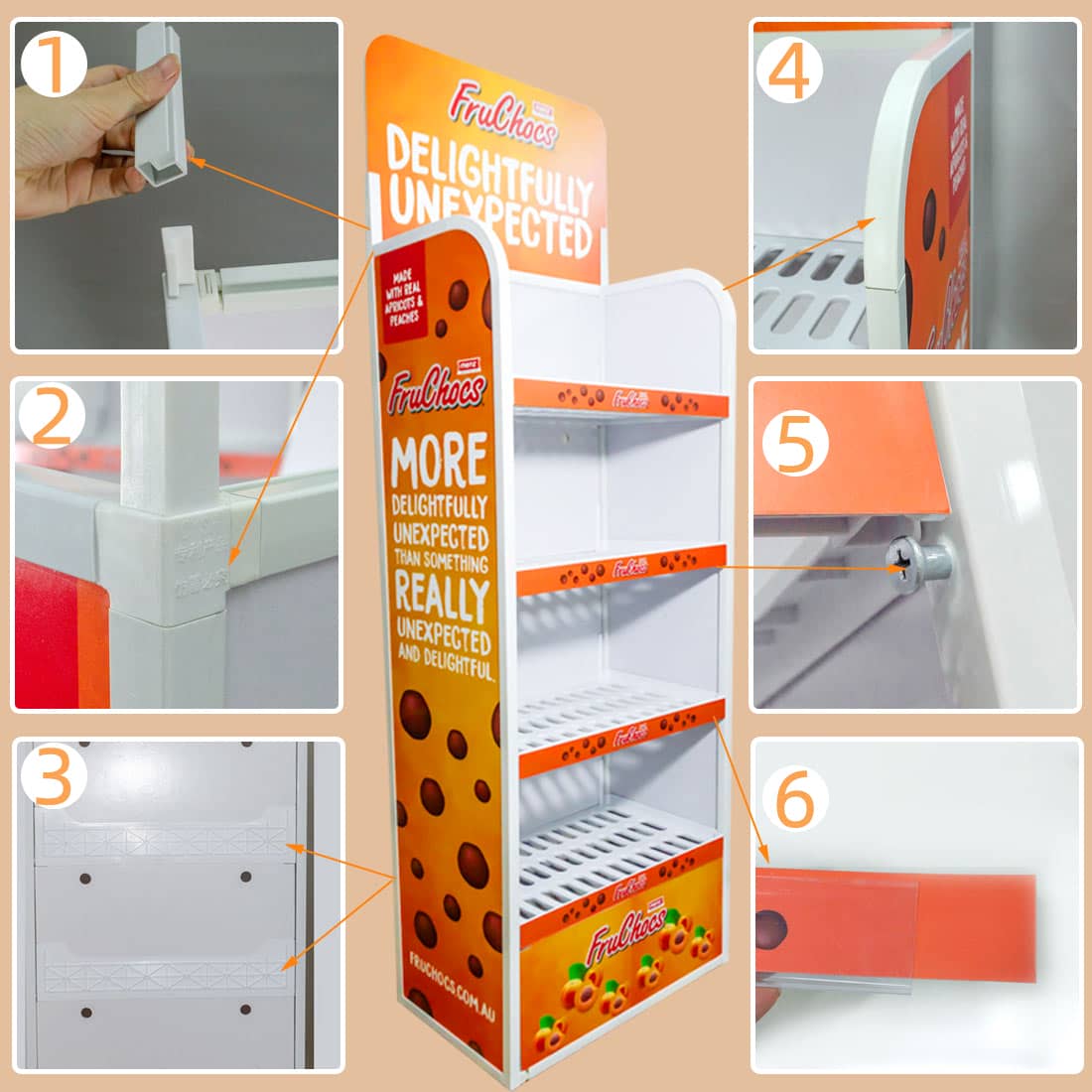 We are a cardboard display stand manufacturer, if you need our display stand, welcome to contact us, and we will provide you with the best service.