When choosing a terminal promotion display rack, many users will feel very passive. Because they do not know more about the display stands which is suitable for them, so they just listen to their competitors' saying how effective they are after using them, or they see someone else's advertisements online.While what they learned above may not be suitable for their own product display, so choose their own promotional retail display rack is a big questions. The flowing are some styles for reference:
Floor display stand:
The size of the display stand is generally the same as the height of adults (1.5-1.7 meters). The display rack is used to display the promotional goods. If the height is too high or too low, it will directly affect the effect of stimulating the eyes of consumers. While there are some special case. For example, if the consumer group is a child, then the height should be the same as the height of the child's sight.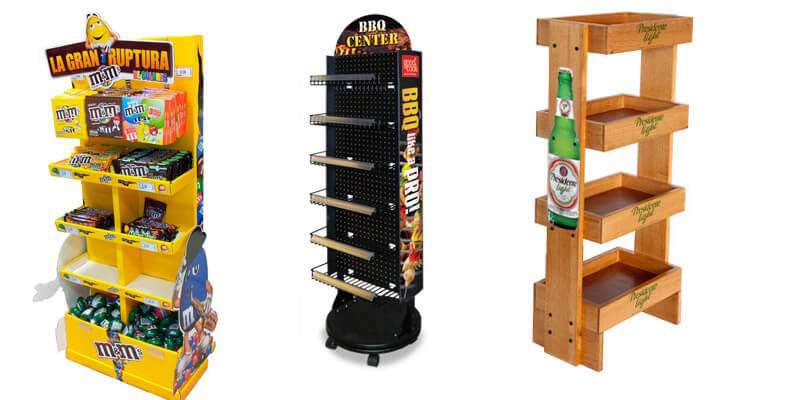 Hook display rack:
Select the hook display stand will make the product stand up and look more three-dimensional, so that customers can understand the products' information on the display rack at one glance. How to choose the hook is also a question. We choose the hook based on to the total weight of the product they need to put on each hook. Hooks can be made in plastic and metal.Plastic hooks for light products, metal hooks for some heavy products.
Counter Display Racks:
Counter displays are popular for some smaller products, which are easy to ignore. Such display is generally a desktop display case. It is more eye-catching when the space is small on the table.
Dump Bins:
There are many types of header cards.. According to the characteristics of the goods and consumers actual needs, different header cards' shapes can be customized by their requirements. In order to increase the expressiveness of the merchandise, the shape of the header card is selected according to the shape of the merchandise. For example, the cylindrical shape of the Coca Cola head is formed to maximize the cylindrical shape of the Coca-Cola to attract people's attention and enhance customers.
Standee:
Standee makes it easier to convey information, telling people what product it is, what features it has, from which company, and so on. The appearance of the standee is novel and unique, which is easy to install, free to carry. It can be placed in front of the shop to show food, clothing, electrical appliances, cosmetics and other goods vividly.
Holiday display-stands-factory is retail display stand leader in china. If you have any questions, you can consult us to help you with free.