Holiday Company were honored to invite Steve and his partner David to visit our and discuss further information about the Display Stands they want in our office On Wednesday, June 12, 2018 . Owner of AQUA Company from Arizona, USA. In that day,the sales manager TERESA and the sales representative Linda warmly received them.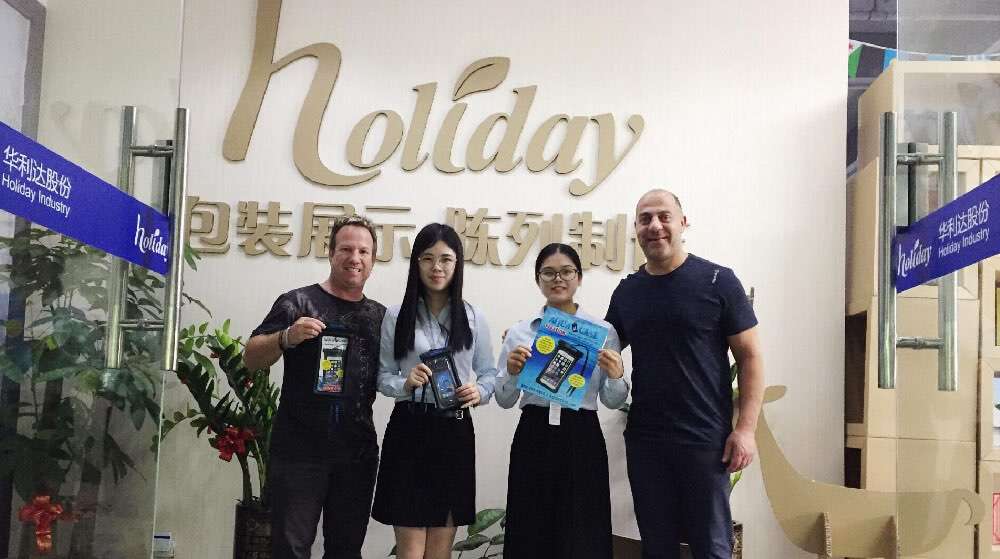 Firstly, Steve and David showed us their products and told us their requirements to the display they want. They wanna the displays stands can speak for themselves and say"Buy me, Buy me!"
After that, they were invited to our sample room,seeing many displays for reference. Finally they choose one counter display with 6 metal hooks, each hooks is about 8 inches.The reason why they chose metal hooks, rather than plastic hooks, is that they want the load-bearing of each hook better, because plastic hooks can not bear hanging goods more than 1kg; To the header-card, Steve want adding one PVC pocket there, so they can put one real case in the header-card. Under the prominent of the artwork, it seems that the phone case is floating in water. It will attract people's eyes.
After the confirming the sample details, Steve said that he need the sample as soon as possible.And he will introduce Holiday to his friends if there is any needs.
Actually, this is not the fist time Steve cooperated with us. When he run the mug cup business, he have already purchased display stands from Holiday. Why he still choose Holiday is because that he is certainly satisfied with the Display Stands Design and service we offered!