T-shirts are one of the most popular sales items in the world. In fact, they are so comment and available that many people do not need to have a specific looks for them. They just own an eye-catching design and then Customers will choose to purchase one. If you are selling t-shirts, it is necessary to find a way to make your t-shirt displays stand out. Holiday T-shirts Display has been serving businesses like yours since 2010, Whether you advisory us for solutions on customized display or order with your idea and design, all of us will make sure you are satisfied with the final wood display for your T-shirts.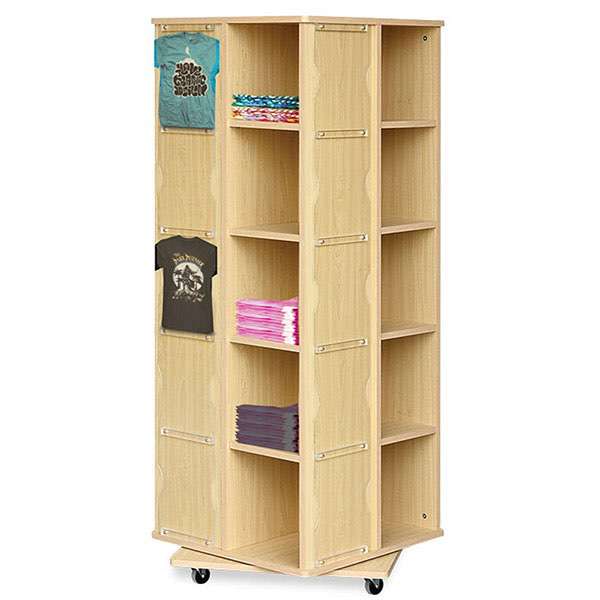 There are endless possibility
Just as some shoes stores which have a clearly-displayed shoe near the boxed stock, it's wise to use T-shirts display racks in close to the folded or already packaged shirts that customers will be buying. If your stock is large, Maybe it is difficult to configure the T-shirts displays effectively. You want customers to focus on the breadth of your T-shirts colors and designs, but you may have limited space.
There are several effective ways of displaying t-shirts:
The common material used to make T-shirt displays is the grille wall which can be attached to the wall. Shirts can be hung on special plaid wall hangers. Because T-shirt is almost against the wall, this method of making T-shirts is particularly space-saving.
Mannequin displays are attractive, but they can be expensive and take up a lot of space. If you want to try a route to the human body model, use one or two mannequins to display the sale of T-shirts or particularly eye-catching T-shirts.
Unless the fit of the T-shirt is important (juvenile or feminine cut), many buyers only care about the design. You may want to show shirts in a special glass case. These cases show a square design - the shirt folded in the case. This T-shirt display is very space-saving and can display several designs at close range.
The wood display rack has a strong plasticity, it can create a variety of modeling styles under the requirement about the customers, Wood display stand owns greater plasticity than iron and stainless steel. This feature determines the wooden advertising display rack has more styles to choose from.
The wooden display rack is stable and reliable, the weight of the wood is heavier, the overall display rack is firmer, and the wood has a shock absorbing effect relative to other materials and can play a certain shaking buffer.
How to display T-shirts retail, why not consider using the wood display rack for sales?