You need a nice cake boxes to impress the customer
https://www.holidaypac.com/cake-boxes/Bakery-Birthday-Cake-Box.html

You need a nice cake boxes to impress the customer
12Inch Package Transport White Bakery Birthday Cake Box

Value:
Just imagine, the customer bought your beautiful cake, but there is no attractive packaging box, or the packaging box is very ordinary, haven't bright spot, how to attract customers, so you need a nice cake boxes to impress the customer.
Design:
Entice your customers into taking home your delicious cakes, cookies, or muffins with this 12" x 12" x 6" white cake / bakery box. The one piece design allows the lid to be opened easily and then tucked back into place to secure the contents. Make sure your bakery is complete by providing a durable cake box for your customers! The bakery box comes as a flat sheet for convenient storage. Easy to assemble, simply fold and lock the tabs together at the sides.

Classic Color:
The clean simplicity of the cake box gives people a comfortable feeling. Show off your baked goods in style! The elegant white exterior of this bakery box will provide a professional feel to your establishment, while the natural brown interior creates the perfect palette to showcase your creations. The white exterior also makes it easy to customize each box with stamps or labels. Customers will love the color of the cake box.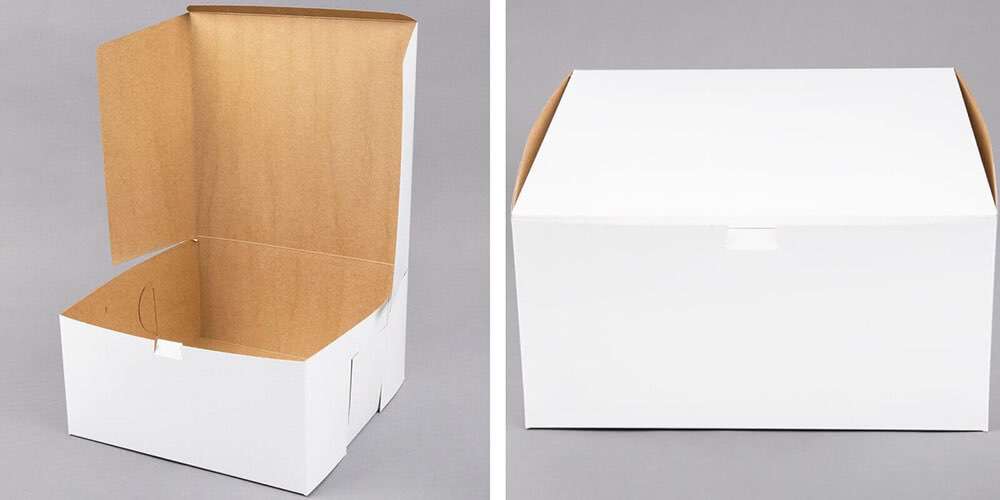 Versatile Size:
This 12" x 12" x 6" box is the perfect size for holding cakes, donuts, cookies, or muffins. Whatever your needs are, this versatile cake box is is a convenient item to keep on hand at your bakery.

How to Assemble Lock Corner Cake Boxes:
To assemble lock corner bakery boxes, first fold the edges inward, and then fold the centers. Next, lift up the back, and insert the tabs, locking them in place. Lock the front tabs. You can now insert the pie, muffins, or other treats into the box. To close the box, choose one of two methods. Option one entails locking the top tab and taping the sides closed. Option two requires just the sides to be folded in for secure closure.